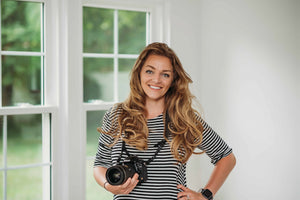 Photog Life October Featured Photographer ~ Sara Blose
Sara Blose
   We are so excited to have Sara Blose with Bonafide Photo as our October Featured photographer. Check out the blog below to learn more about this talented photographer. 
Tell us a little about you and your personal life. Married, kids, fur babies? We want to know it all!
I live in central PA and I am married and have 3 daughters, one of which is a rescue mutt named "Sunny."
What made you decide to get in to photography and when did you first start?
 I have always been the one taking the photos.  I became passionate my Freshman year of high school when I took my first Film course.
What type of photography do you shoot? What are you most passionate about?
  I photograph weddings and families.  I am most passionate about capturing connection and personality in the form of an image.
Not that this really matters, but what do you shoot with?
Nikon!
What makes your passion shine? What are you most passionate about when you are holding your camera?
I love it when people love their photos.  My favorite moments are when people realize they do take wonderful photos and they are beautiful, they just needed a little direction.  Seeing people feel good because of something I provided is a wonderful feeling.
During your journey as a photographer, what has been the hardest part?
Hands down, balancing work and family.  I LOVE photography and sometimes I find myself "sneaking" into my office to look through images or staying up way too late because I just don't want to stop!  It's wonderful to have a job you love but it can be difficult to balance that with a family that needs you and needs some of that energy too.
If you were to go back in time, is there anything you would change?
I would have gotten a mentor!  
How has COVID impacted your business and what have you done to keep busy? 
So many of my weddings were canceled or postponed.  That was really scary at first.  Then the little weddings and elopements started trickling in and I realized that I love to photograph intimate weddings.  I have been SO inspired by these couples that have had to completely rethink their wedding day and do it with such grace.  It has been such a pleasure to walk with them on this insane journey!
If you could photography anyone, alive or not, who would it be and why?
That is a tough one.  I think I would choose Michelle Obama.  She is one of the most beautiful women and has inspired me in so many ways. And of course, since I talk a lot, I'd love to just have a normal conversation with her while we do her shoot!  
What kind of legacy do you wan to leave behind as a photographer?
I want to know that I empowered women to feel beautiful and men to not hate having their photo taken.
What advice do you have for a photographer that is just starting out?
Ask a lot of questions and don't be too hard on yourself!  The most valuable tips I've ever received have been from other photographers.

Thank you Sara for sharing your story with us! Be sure to check Sara out here:
Photog Life | Featured Photographer | Photography Feature | Photographer | Pennsylvania Photographer
---