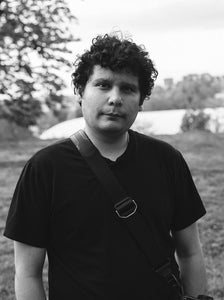 Photog Life October Featured Photographer 2019 ~ Jonathan Diaz
Jonathan Diaz
Tell us a little about you and your personal life. Married, kids, fur babies? We want to know it all!
Well, I'm a single guy living in the amazing city of Pittsburgh. I love books, hiking and getting to know people. 
What made you decide to get in to photography and when did you first start?
I have to admit, the photography found me! I love serving my couples in every way I can, whether it be a family session, to a full blown wedding. It's an awesome adventure. I started 5 years ago, and yes, my first camera was an iPhone.
 What type of photography do you shoot? What are you most passionate about?
I do portraits and weddings, and I'm passionate about both. I love to photograph weddings because of the love between couples, it's a start of an adventure that will last a lifetime. That's a gift from God, and I'm extremely happy to be there to photograph such a wonderful event. Families are my most favorite kind of portrait. It's such a joy to photograph the love between parents and kids and vice versa. Family is such a wonderful thing to have. 
 Not that this really matters, but what do you shoot with? 
Nikon D700 for portraits and D750 for weddings.
 What makes your passion shine? What are you most passionate about when you are holding your camera?
It may sound cheesy but I love photographing love in the making. I am sucker for the little things that make two people fall in love with each other. 
 During your journey as a photographer, what has been the hardest part?
The business part of it. I always like to say I am a better photographer than a businessman.
 If you were to go back in time, is there anything you would change?
Probably, but dwelling in the past is never good. Learn from it of course but don't need to linger on that.
 If you could photography anyone, alive or not, who would it be and why?
Jesus, well He is, for one, my savior, and for another, probably the coolest guy ever.
 What kind of legacy do you wan to leave behind as a photographer?
Serve your clients in the best way you can. 
 What advice do you have for a photographer that is just starting out?
Learn the skills, practice and save money for good equipment when you are ready to start.
Thank you Jonathan for taking your time and share a little about you as a person and a photographer! 
If you want to follow Jonathan and his work, you can check him out here:
Photog Life  | Featured Photographer | Photography Feature | Photography Contest | Shoot and Share | Photographer 
---