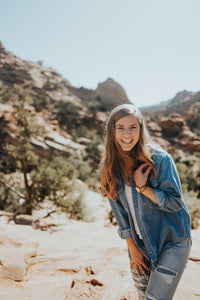 Photog Life November Featured Photographer ~ Bethany Wolf
Bethany Wolf
Tell us a little about you and your personal life. Married, kids, fur babies? We want to know it all!
I'm married to my best friend, my homie, and my better half as of March 2017! We have three fur babies. Two of them are WILD German Shepherds, Zeus & Athena, and we also have our sweet little kitty, Jackson. We currently live in Lemoore, California but will officially be living in Oak Harbor, Washington as of December 10th! We love to spend our free time exploring all of the beautiful places that California has to offer and soon the Pacific North West!
What made you decide to get into photography and when did you first start?
I started photography back in February 2018, so I have almost been photographing amazing couples and families for two years! What got me going was actually my husband's love for photography. My mom gifted him a Canon Rebel for him to play around with and then I kind of took it started taking photos of friends. After a while, I began upgrading my equipment and taking myself more seriously as I had people approaching me to document their special memories and wanted to start heading in the direction of creating a business and an amazing client experience!
What type of photography do you shoot? What are you most passionate about?
I claim myself as a wedding and elopement photographer! I do also photograph families on occasion! I'm definitely the most passionate about my couples, as I love being able to capture their genuine love for one another and all that their relationship entails.
Not that this really matters, but what do you shoot with?
Canon 5D Mark IV and my trusty 35 mm f/1.4.
What makes your passion shine? What are you most passionate about when you are holding your camera?
When photographing my couples and families, I get the most excited and passionate about those authentic interactions with their loved ones. Watching how each couple and family shows their love for one another in a different way is always just so amazing to see. I also like to focus on getting those genuine smiles and all of the laughs! I always get so emotional looking back at my client's images and seeing their actual instructions and smiles instead of those posed and fake "cheese" at the camera smiles.
During your journey as a photographer, what has been the hardest part?
The hardest part through my photography/business journey has been the work/life balance. I'm sure so many photographers can relate. We are our own bosses, so it's always just so hard to tell yourself when it's time to work and when it's time to shut it down. Saying "no" has and will continue to be a forever learning curve!
If you were to go back in time, is there anything you would change?
If my current self could go back to when I first started, I would have pushed myself harder to seek education sooner! I waited a whole year before I started investing in education and it made SUCH a difference in my outlook on photography and my business. The workshops that I've attended have taught me SO much and I have made so many amazing connections. It's definitely something that I wish that I would have invested in and started much sooner.
If you could photography anyone, alive or not, who would it be and why?
I don't have anyone in particular. I would just love to constantly photograph those clients who just absolutely love your work and trust me in my craft to create the absolute best images for them to have as keepsakes!
What kind of legacy do you wan to leave behind as a photographer?
Just someone who always captures the genuine relationships for exactly how they are between my families and couples and being a super fun photog!
What advice do you have for a photographer that is just starting out?
My advice to anyone and everyone that's just starting out is the same advice that I wish I could have given myself at the beginning. INVEST, INVEST, INVEST. Yes, workshops are expensive and so are mentorships and shootouts, but they are WELL worth the investments. You get content, you get education, and you make connections. All three of these things are some of the most important things in the photography world.
Thank you Bethany! It was so rad getting to know you. Thank you for sharing your insight and words with the photography community. If you want to check out more or follow her, check out her sites!
---