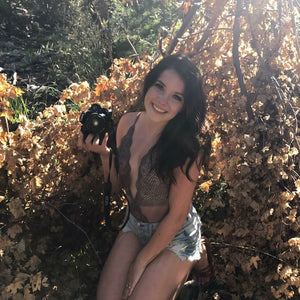 Photog Life June Featured Photographer 2019 ~ Kelly Pennington
It's time to meet our June Photog Life featured photographer, Kelly Pennington. We are so lucky to have Kelly in our Photog Life Community! Thank you for sharing a little about you!
Tell us a little about you and your personal life. Married, kids, fur babies? We want to know it all! 
Hello! I am a navy spouse with two black labs that I love so much. We are stationed in rainy WA but originally from AZ. No babies yet, but love the little family I have.
What made you decide to get into photography and when did you first start? 
I started in 2017. My husband is my biggest supporter that helped me decide to finally jump into a job I love so much! 
What type of photography do you shoot? What are you most passionate about? 
I am a natural portrait photographer. My passion is maternity and boudoir but I love all my clients that come. 
Not that this really matters, but what do you shoot with?
I shoot with a rebel T6, 35mm sigma art lens!
 

What makes your passion shine? What are you most passionate about when you are holding your camera? 
I am passionate about the love I capture and moments I get to snap pictures of. 
During your journey as a photographer, what has been the hardest part? 
The hardest part would have to be the slow season up here in rainy WA because I love just going out and exploring with clients.
 

If you were to go back in time, is there anything you would change? 
I would have started this journey sooner!
If you could photograph anyone, alive or not, who would it be and why? 
I would love to photograph for Tyra Banks because she's a queen and I believe she would be such an inspiration. 
 

What kind of legacy do you want to leave behind as a photographer? 
I want to just leave behind amazing memories for my clients to have as well as knowing I did my best for my business.
What advice do you have for a photographer that is just starting out? 
Research!!! If you want to dive in, do it right. Make contracts, don't just buy any lenses or accessories!
Thank you Kelly again for sharing your story. Be sure to follow Kelly here:
---