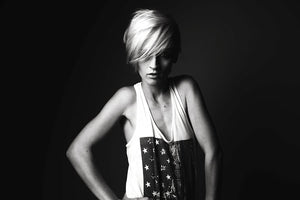 Photog Life February 2018 Featured Photographer ~ Christie Berube
  It is always interesting to see ourselves evolve with technology. Not only as a photographer but in our own personal relationships. Years ago, it was frowned upon to become friends with someone you "met online." It used to sound so strange! But here we are and in 2018, online friends are the norm! And sometimes even meeting! I am sure you are wondering, "Where is Heatherley going with all this?" Well, it brings me to introducing you one of my favorite internet friends, and photographers Christie Berube!!!!
  Let first off by saying, Christie is one of the most genuine and passionate people I have ever met.(Online haha) She is real. She is raw and when she holds a camera in her hand, I am blown away with her ability to capture emotions. Looking at her work never gets old. I am usually left in awe and gasping out loud. Her pictures are always so inspiring and for me, making me want to push harder to be better as a photographer.  I am so thrilled that she is our February feature! Now for the fun part! Here are some words straight from this beautiful soul. I hope you enjoy getting to know her and enjoy her work just as much as I do. 
 Tell us about you! (Family, kids, anything at all)
 Basically, I live and breathe photography, but I guess I have other things in my life that keep me busy, happy, and motivated. I have a crazy five year old son, and an amazing boyfriend whom I adore. I also professionally model and sing! I've actually been singing a lot longer than I've been shooting. I love people and basically fall in love with everyone I meet. Dr. Pepper and coffee runs through my veins, and no matter what, I typically always carry candy with me. My sweet tooth is infamous. I'm very short! I'm less than five feet tall, and I'm rocking every inch I got. 
 When did you get into photography?
I think I've always been into photography. I've always really enjoyed taking pictures! When my parent's really took notice to that, they purchased half (I paid the other half) of my first ever DSLR for Christmas: the first Canon Rebel. That was coming up on ten years ago! I've been shooting professionally for almost 8 years. 
 What type of Photography do you do?
 I specialize in weddings and events, but I essentially do everything. If you can take a picture of it, I do it! 
 What makes your passion shine and what are you most passionate about when capturing people. 
 I love to capture the stories people carry within them, even if I never have the opportunity to know their entire story. I love to capture who people really are, and what aspects about them that everyone knows and loves. I'm just a people-person and I know people well, so I focus very heavily on genuine personalities in my work. I just fall in love with people and their stories so easily and quickly, and that aspect of who I am helps me capture who other people are. 
 What has been the hardest part of being a photographer. 
 I think the hardest part is staying completely disciplined and motivated. Honestly, that's probably a small-business thing. I have to set very high goals for myself, and keep tremendously long to-do lists. I'm always busy. I always have a million things to do. The sacrifice is immense. My personal life takes a back seat most times, and that means the people closest to me are also directly effected. No one realizes it upon entering the industry, but I have had to miss many family events and important moments in loved-one's lives because I'm focusing on EVERYONE's lives, not just my favorite people's. It's tough, and it comes with a lot of guilt. But to be able to do what I do and love it all the way through is difficult, and that's what separates the professionals from the amateurs. I don't regret a single second, because my job is literally focused on unforgettable and important events in a human life. I don't take that lightly. 
 Would you change anything?
I would change my perspective upon entering the industry. I came in with an artistic view, when I really needed to walk into it with a business mindset. I've worked many years to change that. It's not a bad thing to come in or to have an artistic view, but you won't be just another "starving artist", if you hone in on the business aspect first. 
 What kind of legacy do you want to leave behind with your work?
 I want people always leaving with a smile. I want to have brightened their day. I want my clients to say, "oh, that was way easier than I thought. It was actually really fun!" after every single experience with me. I want them to remember each other and the love they share when they look at my images, the emotions and fun they had during our shoot, and the importance of every life stepping-stone. 
 Any advice for people that are wanting to start photography. 
So much, it's ridiculous. I think it can be summed up into five things: 
1. Practice, practice, practice. 
2. Being discouraged is natural. Keep going. Keep pushing. 
3. Don't compare yourself to other artists. 
4. Don't get involved with the industries drama. Walk away. 
5. Approach photography with a business mindset if you want to do it full time and successfully. 
You can follow Christie here on FB and IG.
Christie Q Photography Website
Thank you so much Christie for sharing your story! We are thrilled to have you as our February 2018 Featured Photographer!!
If you are photographer and would to be a part of the FB Photog Life Community, be sure to join us here!
Photog Life | Photog Feature | Photography Feature | Photographer | Christie Q Photography | Utah Wedding Photographer | Utah Photographer | PNWPhotographer | Mountain Photographer  
---