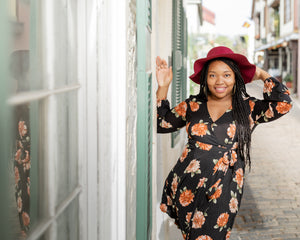 Photog Life August Featured Photographer ~ Teresa B.
Teresa B.
We are so excited to be featuring Teresa B. for the month of August. She is someone you want to follow! Her work is stunning. We had the chance to get to know here more and wanted to share her journey with you! 
Tell us a little about you and your personal life. Married, kids, fur babies? We want to know it all!
I was born and raised in New York City with my siblings (there's 7 of us) and parents. I went to college in NYC as well, but I often get the question of whether I went for the arts. The shocking answer is No! I went for Business Management which in some way is what I am doing, but I am way more a creative at heart. Before even picking up a camera, I designed clothing for my dolls and did pageants along with some modeling. I am no newbie to the arts, but photography really hit home for me. I am currently 27 years old and have been in business for myself for the last 5 years. I love really random things, but hey! That is my life. I'm quite the random individual. I like to keep people on their toes when it comes to me and what I'm doing next. My son is starting to show signs of the same personality (of course with his own tweaks). I am a rainbow mom to a vivacious little 4 (almost 5) year old. I wasn't always proud to say that, but this little nugget is my joy on some of the hardest days. I married my crush in 2014 and we are still kicking! He's really become such a huge part of my life that when he's away I am a shell of a person. I spend a lot of my time editing (go figure), but while working I'm jamming out music of many genres or watching Romantic and/or Comedic movies to keep my spirits high. If I need an instant boost, I break away for a moment and play the Sims. I've loved that game for as long as I can remember. It brings me so much happiness. Speaking of happiness, I love to laugh and joke around. You can be having a crap day and I will do my level best to at least get a smile out of you. That is just the person I am! I need to bring joy to everyone I come in contact with.
What made you decide to get in to photography and when did you first start?
I started photography in High School. My teacher would lend me her camera to take pictures at school events, but didn't officially allow me to use it until I knew how to shoot manual. So I learned manual and the rest is history. I modeled for a bit while in college, which is where I got my knowledge of posing and movement. I officially started after my son was born. That is when I knew this would be my career.
What type of photography do you shoot? What are you most passionate about?
I shoot mainly maternity, newborn to first year portraiture and families. I am most passionate about my maternity sessions. Those are the sessions that set my soul on fire!! Oh my goodness, the poise and grace that these women exude is so beyond breathtaking. I cannot put it in words how these ladies make me feel when they see how I see them through their portraits.
Not that this really matters, but what do you shoot with?
I'm a Canon girl. I shoot with the Canon 5D Mark IV and Canon 6D. My first baby was the Canon Rebel EOS T3i.
What makes your passion shine? What are you most passionate about when you are holding your camera?
Laughter! True emotions are what my clients just know I will capture. I play around all the time and I feel out my clients. I can tell what will make me have a genuine reaction from them.
During your journey as a photographer, what has been the hardest part?
The hardest part is being a one-woman show. I know that growth is inevitable, but right now I am all I have in this business. I love making my clients feel like they have my fullest attention, but I have so many clients at once that it's becoming harder and harder. I don't ever want any one of my clients to feel slighted, but being a businesswoman, secretary, photographer, editor, mom, wife, big sister, daughter, best friend and so on all at once is the hardest part.
If you were to go back in time, is there anything you would change?
Nope. My glow-up has been crazy in this short 4.5 years. I can't wait to see what the next 4.5 years will hold for me and my budding business.
If you could photography anyone, alive or not, who would it be and why?Whitney Houston. Not many people know I can sing (like competition type sing) and when I''m asked to sing I often choose one of her songs. Vocally, she was a beast!! I've looked up to her since I was a child. My mom allowed me to send her letters and when I got stuff back it was the highlight of my life. If I ever had the opportunity to be around her and photograph her I probably would have passed out once or three times. She was beautiful and crazy talented through it all.
What kind of legacy do you wan to leave behind as a photographer?
I honestly haven't thought about it much. I know for sure right now my clients are saying that I have an infectious personality and smile. It's one thing they cannot forget. So if anything, that is what I want to leave behind. I was personable and a joy to be around all while capturing moments they didn't even know I was paying attention to.
What advice do you have for a photographer that is just starting out?
That whole competition thing in your mind...yeah, cut that out!! Stop comparing your chapter one to someone else's chapter twenty-one. Take your time, learn your craft, don't look for handouts or feel entitled to something you haven't worked for. It's ok to admire, but don't lose yourself in that. Work toward what you want your work to look like and the clients will come. Don't be afraid to get out there and reach those goals.
Thank you Teresa for sharing your story! It was so great learning about you. You truly are an inspiration!
Be sure to follow her here:
Photog Life | Photography Feature | Featured Photographer | Photographer
---